OUR STORY
Humor to Fight the Tumor is one of the country's premier fundraising events benefiting those living with brain tumors and those researching more effective treatments. To date, the event has raised $3.1 million to aid in the fight against brain tumors.
The goal of Humor to Fight the Tumor is to move people through the power of hope and laughter to contribute to the important work of funding research and patient services. The gala event features silent and live auctions, live comedy, dinner, and stories of determination and courage by brain tumor survivors and honorees.
By sharing stories of those affected by brain tumors—sometimes heartbreaking, always uplifting—we shine a light on the devastating effects of a disease that attacks the very centers of movement, thought, and emotion. That light kindles hope, hope fuels generosity, and generosity paves the way for new treatments.
When you sponsor or attend Humor to Fight the Tumor, or donate to the silent or live auctions, your generosity directly benefits patients, families, caregivers, doctors and researchers.
2016 Humor to Fight the Tumor Event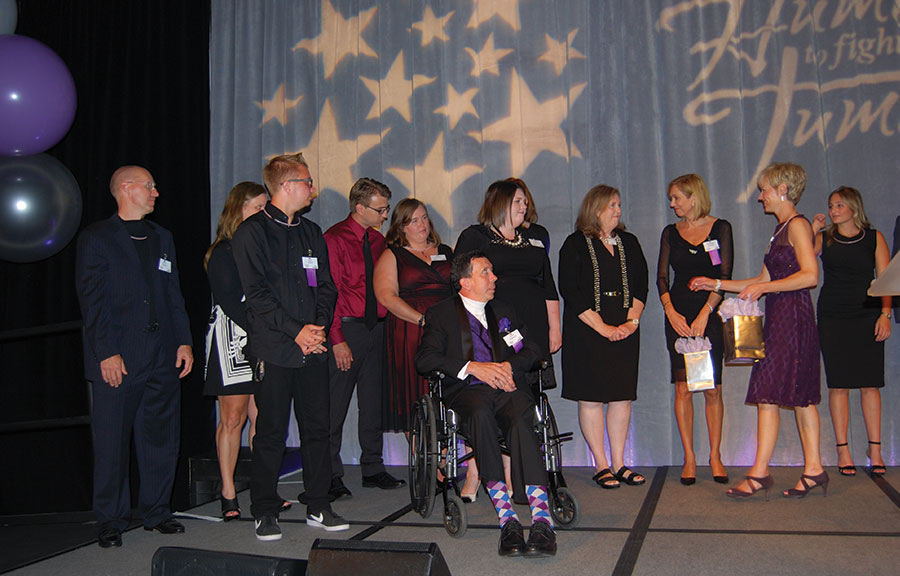 On Saturday, September 10, Humor to Fight the Tumor held its 13th annual gala. Over 620 people attended and close to $325,000 was raised in net proceeds for brain tumor research and patient services. To date, Humor to Fight the Tumor has raised over $2.7 million dollars. The gala featured remarks from event founder Joelle Syverson and Board Member Kristin Gray, who highlighted partnerships with The American Brain Tumor Association, Mayo Clinic and the University of Minnesota emphasizing what each organization has been doing with money granted by Humor to Fight the Tumor. Parts of the evening were live and silent auctions, comedy by Derek Hughes, as well as a video showing stories of hope and determination provided by our four honorees: John Hogenson, Michelle Nasifoglu, CJ Nyland, and Gloria Strom.